Nepal is home to mountains. It is a nation of great ethnic diversity and natural wonders. Therefore, lots of people visit this tiny Himalayan nation. If you are a regular follower of Himalaya View Treks' blogs, you will get lots of information regarding trips to Nepal. My clients across the globe always inquire about the best trekking trails in Nepal. Therefore, I am blogging about the Top 3 Treks in Nepal. However, there are numerous trekking trails that you can enjoy. For now, let's find out more about Nepal's top 3 treks in Nepal.
Top 3 Treks in Nepal: Everest Base Camp Trek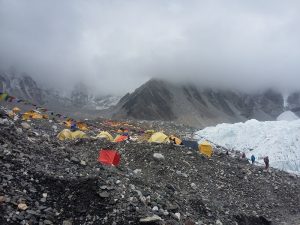 Mount Everest is the deity of all mountains. It is the pride of this Himalayan nation. Every year thousands of trekkers reach the foothill of the world's tallest mountain Mt. Everest (8,848 m). It is a wilderness adventure at its best. Proper planning and sound physical fitness in trekkers can complete the course easily. The key factor for the successful Everest Base Camp Trek in Nepal is the services of an experienced trekking agency.
There are numerous factors that trekkers must consider before attempting the Everest Base Camp Trek. Walking on the moraines and glaciers into the thin air atmosphere is not an ordinary feat. However, the expert trekking agency's crew members will aid in a successful trip.
The most important factor to consider before EBC Trek is travel insurance. Don't forget to buy travel insurance from a reliable agency. The insurance must cover the medical, helicopter rescue and flight cancellation clauses as well. The weather in the mountain region is very unpredictable. Therefore, getting insurance is the best way to have a hassle-free journey.
Highlights of Everest Base Camp Trek in Nepal are mountains, forests type, Sherpa and monasteries. Trekkers can get glimpses of temperate, sub-alpine, alpine and tundra vegetation. The place is an abode of Sherpa people. Apart from Sherpa, the trail is full of monasteries, chhortens, glacial rivers and suspension bridges. Relish every moment of being at the locale of Mt. Everest.
Apart from Everest Base Camp Trek, there are other trekking routes in the region that are equally popular. Gokyo Valley Trek, Three High Passes Trek, Jiri EBC Trek, EBC Chola Pass Trek and Everest View Trek are other trekking trails in the region.
Annapurna Trek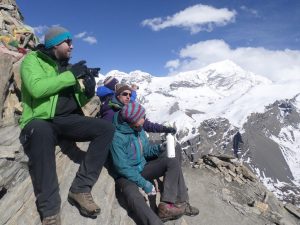 Mt. Annapurna is the 10th tallest mountain in the world and it is the most beautiful too. A plethora of mountains on the trail makes it a Himalayan excursion. Moreover, the trail is probably the most beautiful, diverse, and magnificent.
Annapurna Base Camp Trek in Nepal has different trailheads and routes. Trekkers can choose between the short Annapurna Trek route or the regular. Trekkers can complete the course in just 6 days or 14 days. There are other 8-9 days' itineraries as well.
Iconic places on Annapurna Base Camp Trek are Ghandruk village, Ghorepani, Poon Hill, Himalaya, Bamboo, Machhapuchhre Base Camp ((4130 m), Annapurna Base Camp 9(4130 m), and Jhinu Hot Water Springs. If you are a mountain lover but also wish to interact with locals then this is an ideal trek to do in Nepal. The trail is full of villages of Rai, Magar, Gurung, Tibetans, Untouchables, Brahmins, and Chhetris. Therefore, lots of people consider Annapurna Region as blessed by Mother Nature and operated by Cultural Grandeur.
In comparison to Everest Base Camp Trek, the chances of getting caught by altitude sickness is lesser. However, the trail has numerous uphill and downhill. Trekkers must be very fit and healthy. If you are doing regular light exercises at home then you can easily complete the course with the help of an ideal itinerary.
Explore diverse holiday destination of Nepal
Among many trekking routes of the Annapurna Region, Ghorepani Poon Hill Trek and Mardi Himal (5,587 m) are the most popular short trekking courses. Annapurna Round Trek also known as Annapurna Circuit Trek, Tilicho Lake Trek and Nar Phu Valley Trek are popular long detours.
Lots of domestic and foreign trekkers are flocking to Mardi Himal lately. The scenic beauty, altitude and tranquil trail make it the most astonishing trekking route. Ghorepani Poon Hill Trek is legendary. The trail is a perfect vantage point to observe the mesmerizing mountains and cascading hills.
Trekking is its major specialty. However, the region has Nepal's most popular touristic destination for both foreigners and Nepalese the Pokhara. This city of the lake is the trek start or endpoint for all the trekking courses in the Annapurna region.
Langtang Region Trek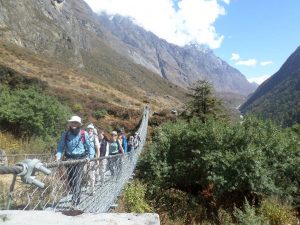 Langtang region Trek of Nepal is both mythical and mystical. It is also the nearest trekking region to the Kathmandu Valley. There are numerous activities that trekkers can perform or able to see. The area is popular for adventure, culture, and nature. Trekkers can find lots of different options for the holiday. From short to long and easy to challenging trails to make Langtang interesting.
The most popular trekking route in the Langtang region is Langtang Valley Trek. This takes trekkers to Kyanjin Gompa via Syaprubeshi, Lama Hotel, and Langtang Village. Noteworthy mountains on this trail are Gaurishankar (7,134 m), Langtang Lirung (7,227 m), Sishapangma (8,013 m), etc.
Gosainkunda Lake Trek, Helambu Trek, Tamang Heritage Trek, Ganjala Pass Trek, Langtang Valley Gosainkunda Trek, etc. are major trekking routes of the region. These trekking trails can be planned according to the length of a holiday. You need to carefully select the trekking agency while booking trekking in this region.
Do Volunteering works as well!
After the 2015 earthquake, lots of tea houses and trails are damaged. There is a constant fear of landslides. The accommodation and food have been restored to normal. However, the trail is very much landslide-prone. Ask as many questions to your agency as possible before attempting the trek in Langtang. Even if the trail is landslide-prone it is absolutely safe. Book any of these trekking trails of the Langtang Region and relish the chance to witness Lama/Tamang ethnic culture as well as mountains.
Book any trekking holiday out of these Top 3 Best Treks in Nepal. Enjoy majestic Nepal on foot. If you have more queries then please contact our travel planners. Our travel experts will assist you to plan the best hassle-free holiday in Nepal.
Everest Base Camp Trek in Nepal is the best trail to start your walking adventure. Moreover, it is the journey towards the base camp of the world's tallest mountain Mt. Everest (8848.86 m. Namche Bazaar, Thame, Dingboche, Tengboche, Khunde, Khumjung, and Manjo is the major Sherpa villages. There are
What are the 3 Best Short Treks in Nepal?
Moreover, there are many short trails where you can trek in Nepal. However, I have sorted these three trails as the best short treks in Nepal. These short treks in Nepal represent Nepal's three beautiful trekking destinations. They are Everest region, Annapurna region and Langtang region.
Now, let's discuss more about these trails in detail.
Ghorepani Poon Hill Trek: Top 3 Treks to do in Nepal among short treks
Annapurna region of Nepal is in Gandaki Province of Nepal. It is beautiful as well as diverse. You can find the villages of multi-ethnic people as well as get the beautiful mountain vistas. The major highlight of Ghorepani Poon Hill Trek is villages, people, mountains, forests, hills and vantage point.
It is also the part of Annapurna Base Camp Trek. Trekkers take the jeep up to Ulleri. Note: You can start your trek from Nayapul or Birethanti too. However, the dusty road and ongoing traffic make it unpleasant for the trekkers. Therefore, nowadays most of the people prefer to drive to Ulleri. You can try the alternative route as well from Ghandruk.
Short Itinerary of Poon Hill Trek
Fly to Pokhara; Drive to Hille or Ulleri
Trek to Ghorepani
Early Morning sunrise from Poon Hill (3210 m); Trek to Tadapani
Trek to Ghandruk Village; Moreover, it is drive in Local Jeep drive to Pokhara
Pokhara Sightseeing
Fly to Kathmandu
Quick Facts
Highest Altitude: 3210 m
Number of Day: 5-7 Days
Weather & Climate: Moderate
Best Season: Throughout the Year
Difficulty: Easy
Cost: 600 – 800 $ per person
Everest View Trek
Mt. Everest is world's tallest mountain. Moreover, it is the pride of Nepal. In order to reach it's base camp trekkers have to walk for 11 days. It is normal trekking days excluding flights or transportation. Therefore, many people can't make it to the base camp. So, the best way to experience Everest in less than a week is Everest View Trek.
Everest View Trek is pleasant trekking trip to do in Khumbu. There is less risk of altitude sickness too. You can choose to either make Everest View Hotel or Tengboche Monastery as your final destination. The choice is yours. However, most people prefer to trek up to Tengboche. Scenery of Pangboche Valley and Mt. Everest seen from the Tengboche hill is breathtaking.
However, the Itinerary of Everest View Hotel is this:
Flight to Lukla; Trek to Phakding or Manjo
Trek to Namche Bazaar; Market Exploration
Trek to Tengboche; Monastery Visit
Trek to Khumjung Village
Trek to Lukla
Fly to Kathmandu
Quick Facts
Highest Altitude: 3873 m
Number of Day: 5-7 Days
Weather & Climate: Moderate
Best Season: Throughout the Year
Difficulty: Easy
Cost: 800 – 1100 $ per person
Langtang Valley Trek: best among Top 3 Treks to do in Nepal
Among many one week treks in Nepal, Langtang Valley Trek stands out. It is gorgeous and also diverse. Moreover, the trail is nearby Kathmandu Valley too.
Additionally, the place is famous for it's natural beauty, legends and myth. It is probably the most underrated trekking trail of Nepal. If you are in Nepal and have 4-5 days to spare, try this. You will definitely love the memories that you collect on this trail.
Outline Itinerary
Drive to Syaprubeshi
Trek to Lama Hotel
Lama Hotel to Langtang Village via Ghoda Tabela famous for bamboo forests (home of red panda)
Trek to Kyanjin Gompa; Sunset view from Kyanjin Ri
Trek to Lama Hotel
Trek to Syaprubeshi
Drive to Kathmandu
Moreover, these are famous 3 best short treks in Nepal. Subscribe our blogs and follow us. If you have any kinds of queries regarding trekking in Nepal, contact us.
Quick Facts
Highest Altitude: 4773 m
Number of Days: 5-7 days
Cost: 600 – 900 $ per person
Difficulty: Easy
Best Season: Autumn, Spring & Winter