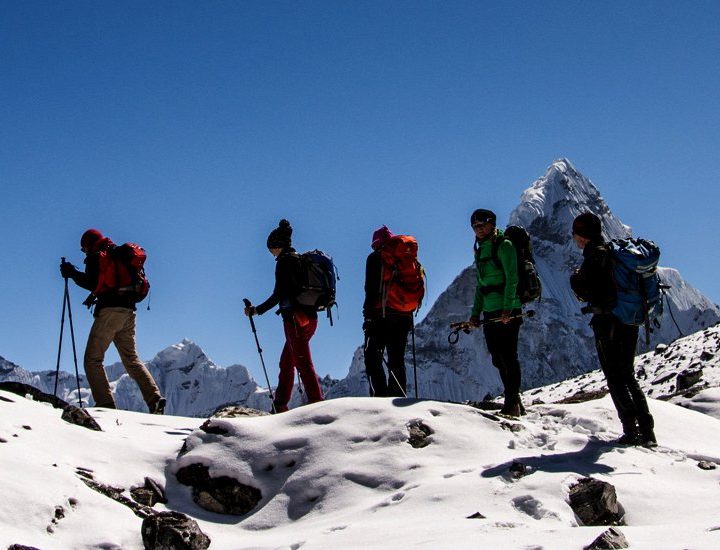 Nepal is a naturally beautiful country so trekking in Nepal is the most adventurous, romantic, and memorable activity.
The range of geographical features, variety of vegetation, numerous rare and non-rare wild animals and birds, and rich diverse culture awards trekkers with a unique trekking experience. Trek to different parts of Nepal provides the experience of attractive natural and cultural experiences. The popular trekking sites are Everest region trekking, Annapurna region trekking, Langtang region trekking and Ganesh Himal region. There are some protected regions along with the Himalayas such as Shey Phoksundo, Langtang, Sagarmatha, Makalu Barun, Rara, Kanchenjunga and Shivapuri national parks and Annapurna and Manaslu conservation areas which provide the best trekking option to the trekkers in Nepal.
Moreover About Trekking!
For more adventurous trekking, there are some restricted areas in Nepal but trekkers should take trekking permits for restricted areas trekking. Restricted trekking areas of Nepal are lower Dolpo, Upper Dolpo, Upper Mustang, Tsum valley, Kanchenjunga and Manaslu. As per new regulation, all trekkers are required to carry a tims. Walking is a very popular activity. It generally involves a journey across forest track or in the countryside. Moreover, it is still enchanting and virgin. In Nepal through trekking trekkers will directly experience authentic diverse local culture, way of life of different ethnic people, religions, and festivals.
Himalaya View Treks offer adventurous, romantic, informative, short to long trekking in all the popular destinations of Nepal such as the Everest region, Annapurna region, Langtang region, Ganesh Himal region, and restricted areas. During your trekking, Himalaya View Treks will provide a full range of trekking equipment, and all kinds of facilities such as good accommodation, food, an expert guide, cook, porters, and a luxury camp during your campaigning stay.